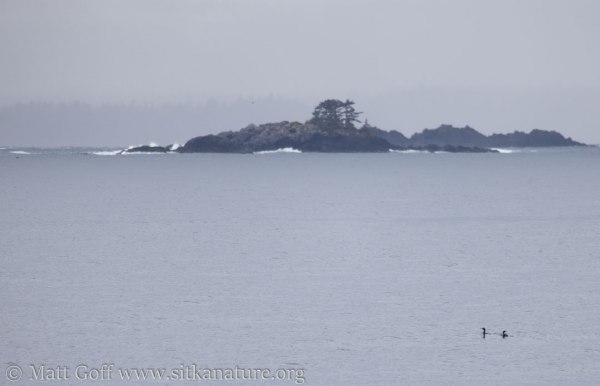 Light snow fell this morning, with none accumulating before it turned to light rain this afternoon. Snow level (based on accumulation on the trees) was at about the 2000 ft level.
I went for a drive this afternoon with a stop at Sawmill Cove and another at Sandy Beach.
With no fishing boats tied up at the dock, I was interested to see some birds in Sawmill Cove. They were Common Megansers and gulls, with Common Murres further out in the bay.
At Sandy Beach I spotted a transitioning Pigeon Guillemot out past the kelp patch. It's the first I've seen this year (bringing my year list total to 77 – which is likely to be pretty close to half what my year total will end up at).
Despite the very calm winds, waves were still breaking on the outer rocks. I think not as much as yesterday, however.
Although temperatures have been cold and very winter-like lately. I'm starting to get the sense of animals beginning to move and behave in ways that anticipate spring. Birds might be a bit more aggressive, and I am starting to notice at least partial songs more often. Whales and sea lions have begun to show up, presumably after the herring that will be spawning in about a month.
My iNaturalist Observations for Today