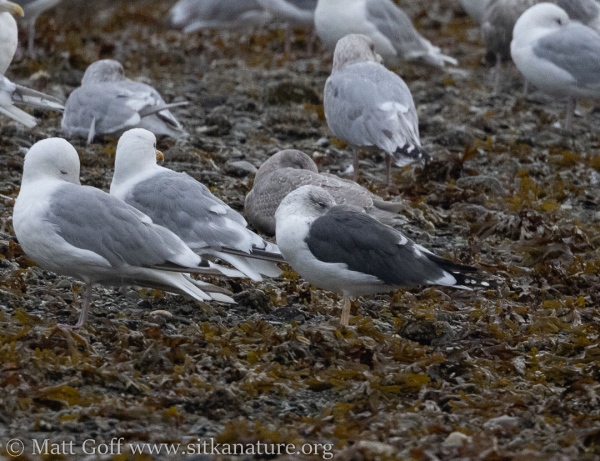 Overcast with some low clouds skirting the mountains. Rain diminished for a time in the afternoon, but otherwise was fairly steady.
The forecast for today had me thinking yesterday afternoon's high and relatively thin overcast might continue through today. Had it done so, I was thinking it might be my best chance to get up Harbor Mountain for my annual attempt at photos.
I woke this morning to rain falling. When I looked out, there were was a steady overcast which appeared to be higher than peaks I can see from my house, but lower borken clouds were also skirting most of the mountains. This situation ended up continuing through the day.
This afternoon I went out to the golf course after getting a report of a Mourning Dove. I walked a loop but never found the bird. I may try again tomorrow.
This evening I got a text from DK letting me know the Lesser Black-backed Gull (LBBG) was down at Totem Park again. It's been over three weeks since it was last seen. Both DK and I have been regularly looking over the gull flocks (him more consistently and thoroughly than me), so presumably it's been spending much of its time at other streams/estuaries where gulls are hanging out this time of year.
I spent some time looking at my shearwater pictures from earlier in the week. I think some of the photos are probably good enough for an ID to species, but as I worked towards that, I realized I'm not entirely sure I know how to differentiate them. I've always just tended to assume what I was seeing were Sooty Shearwaters. With the reports of Short-tailed Shearwaters being more numerous on the sound recently, I was a little more open to that possibility than I've been in the past. Comparing the bird I photographed this week to ones I've photographed previously, I came to question some of my earlier calls as well. I may need to write up a post with some photos and solicit help with IDs before I feel comfortable making a call one way or the other.
With the reduced outside time the past couple of days, I've managed to flesh out and do initial uploads for photojournal posts from the past couple of weeks which I had initially just written brief notes for. As I'm writing this, it's been over two weeks since my most recently published one. I'll need to decide whether to publish in order, or skip ahead. (Of course by the time anyone reads this my decision will already be implemented one way or the other.)
My iNaturalist Observations for Today