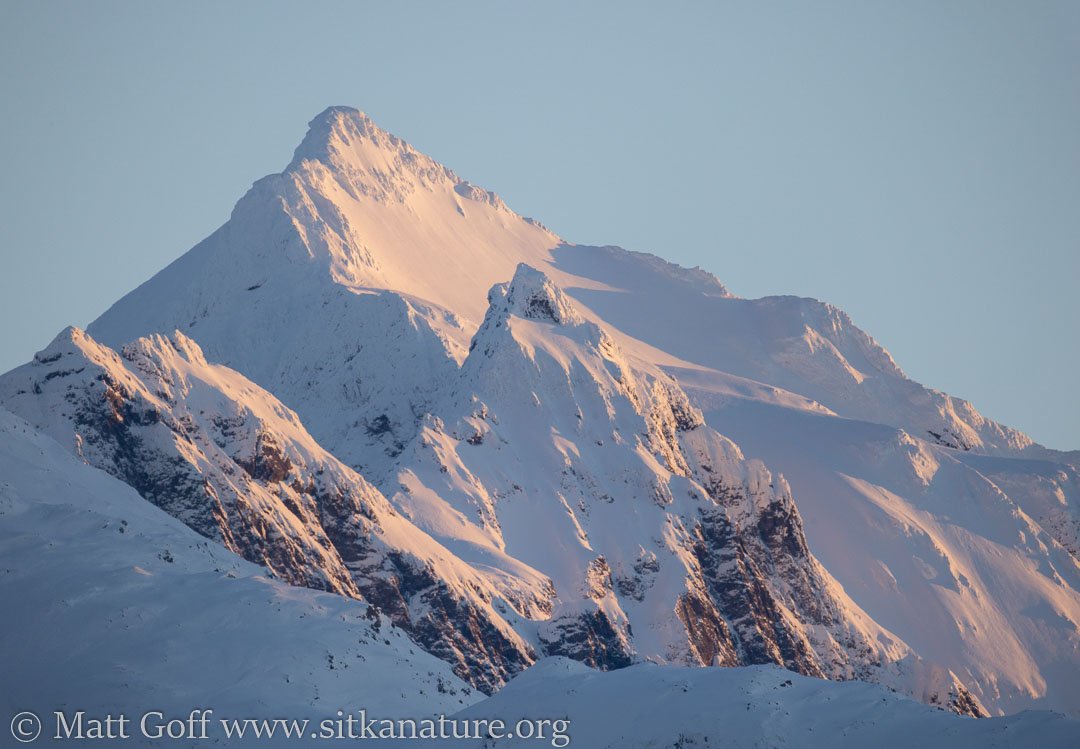 I hoped to catch a thin crescent moon rising just before sunrise, so was up and out a little before 8am. Technically I didn't leave until after sunrise, but I knew it would be a bit before the sun was above the mountains.
I am not actually sure how close to the sun a crescent moon can be observed, but I did not find it today. The internet tells me it was 6% illuminated, and travelling only 15 minutes ahead of the sun.
Although I could not see the crescent moon, I took plenty of pictures and tried adjusting contrast on them later. Still no luck. Until looking into it further, my leading hypothesis was the atmosphere was just too bright and washed out the thin, faint moon. However, after reviewing some tables https://www.timeanddate.com/moon/usa/sitka the moon is not as close to the sun as I was thinking, so perhaps I was just looking in the wrong place.
If the clear skies hold as forecast, perhaps I can try for a very young moon just after sunset on Friday (armed with better pre-knowledge of its location).
Despite missing the moon, I enjoyed seeing the blowing snow illuminated like a rim of fire in the minutes before the sun crested the mountains.
Temperatures were around 11F at my house when I headed out this morning, and slightly warmer down by the water. It has warmed up to 12-13F by the time I got home an hour later. Today's high was 17F, and it's forecast to get down to 9F overnight (which would be even colder at my house by a couple of degrees).
Winds were light on the waterfront this morning, though even light wind made things feel extra cold. When I was out this afternoon, white caps covered Crescent Bay and the Castle Hill flags were extended in the stiff breeze. Like yesterday, it was windier over Crescent Bay than in Silver Bay. However, it looked like winds blowing hard out of Medvejie.
I drove the road out to Herring Cove and as expected saw lots of ice accumulating at seeps.
Bird Notes
I saw four Robins this morning, the most I've seen in some months. I have noticed in prior years that robins seem to show up sometimes in winter after an absence of some months. This lead me to hypothesize they might be staying further north as long as they can. It will be interesting to see if robins continue to be around after this. Sometimes birds that arrive with the cold stick around well after the cold has left.
The birds at Lazaria Drive were back feeding on the this afternoon, and I was able to get some photos as the sun dropped low.
This afternoon I saw a Varied Thrush on lawn at SJ as I was driving by.
My iNaturalist Observations for Today