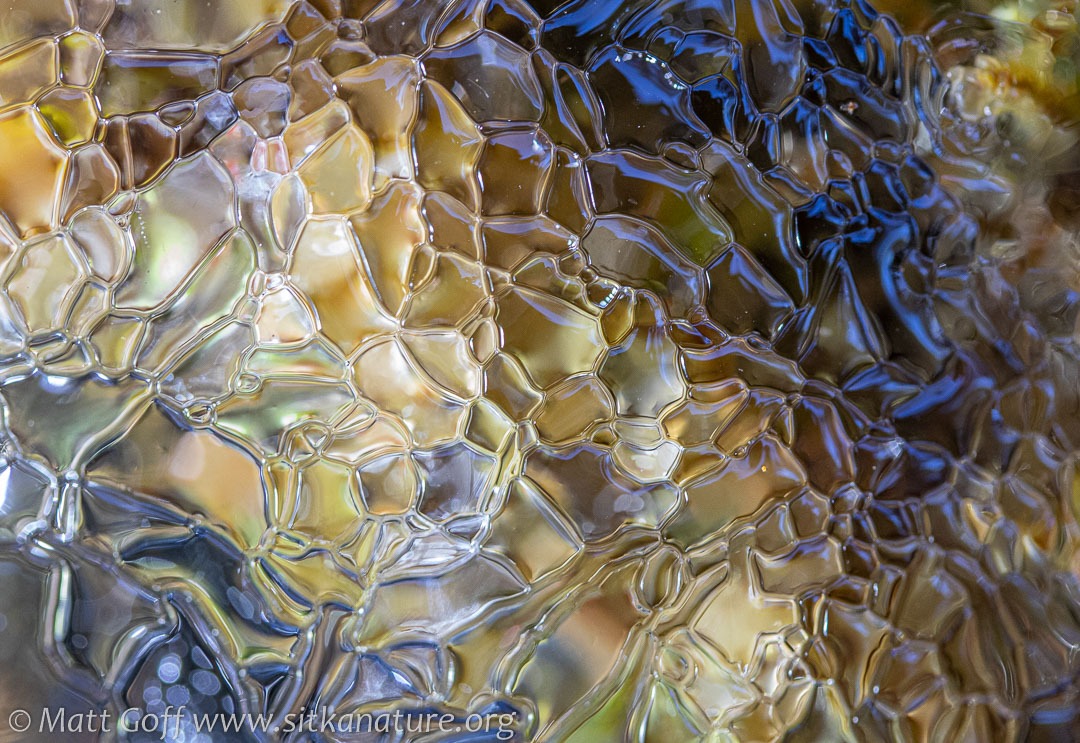 March sunshine continued today, with temperatures warmer than they have been so far during this stretch (still freezing overnight, however).
Winds were calm when I went out late this morning and spent some time listening to the birds and poking around in my yard (I should definitely think about doing a bit of shrub rearranging this spring.)
I met Kitty out at Starrigavan a little afternoon to take a walk around Mosquito Cove Trail. I had thought about going to Magic Island, but it seemed a popular destination, with the parking lot nearly full (later there were even more cars – several parked alongside the road).
Plenty of folks were out at Starrigavan as well, including at least a couple who appeared to be digging clams far out on the tide flats.
The tide was about 1.5 feet below predicted, resulting in a low of almost -1ft.
We walked across the beach and I decided I wanted to sit in the sun for a bit on the rocks near the end of the accessible trail section of Mosquito Cove Trail. While there, a passerby stopped and chatted for a bit from the trail.
We eventually continued on around the loop. I hadn't been out since a big wind throw event I had heard about from someone who was out there shortly after it happened (same day). It was much larger than I had expected. The smell of hemlock was fairly strong – needles were still on the trees, but all the ones (and there were quite a few) that had fallen across the trail had been cut back.
Things got much icier as we came around to the north side of the point and approached the cove.
I was distracted for a time trying to get photos of the patterns on ice that had formed on the trail side rock outcrops/cliffs. I didn't have as much success as I might have liked, in large part due to difficulty with getting decent light and hand holding my camera. At some point I may try to get out there again with a better set up and/or more time to look for ice that would be easier to set up to photograph.
Kitty powered up from the cove to the top of the hill without stopping, and I managed to keep up without becoming overly winded. It was probably good to do, and I really should start trying to do at least a bit of a hike up hill two or three times per week to improve my conditioning.
We checked out some alders before dropping back to the beach – I was curious to see Ochrolechia laevigata with several apothecia that seemed empty of the typical orange-cream color that usually fills them.
Before heading back in to town, we relaxed on the roadside embankment overlooking the estuary pool. While sitting there enjoying the warm sun (and surprisingly not cool feeling light breeze), I noticed a pair of small ducks swimming about. Before getting binoculars on them, I thought maybe Green-winged Teal, but after getting a better look, realized they were Hooded Mergansers (neither of them appeared to be a mature male, however).
We met back up again at old airport road (Alice Island end), and checked Lazaria drive (where it appears the feeding operations have ended), and then walked old airport road.
Some of the spruce trees are heavy with cones and I was a little surprised to see Dark-eyed Juncos doing an impression of finches by picking at the cones up in the trees. I thought there might have been siskin up with them (it was too far away for me to be sure), but looking at my photos later, I realized it was an American Tree Sparrow (one has been seen on Japonski Island from time to time this winter).
My iNaturalist Observations for Today