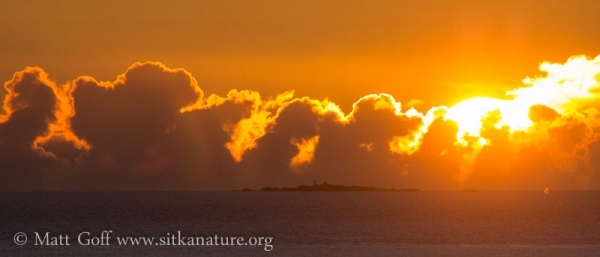 It was a sunny and reasonably warm day, and though I was tempted to take Rowan out for a hike somewhere, we ended up staying home and taking care of some tasks that have been waiting. A little over a week after I started (and over three years since I purchased it), I finally finished putting together the shelter logic shed so I can store some things in a relatively dry place not on my porch. I also showed Rowan how to fix a bicycle flat, since we both had one (hers from a couple of days earlier, mine from a couple of months).
With Connor not here regularly putting food out, the birds have stopped coming around in the numbers they had been. I put out a fair amount of seed today, so perhaps that will attract them again in the coming days.
This evening I needed to go down to the radio station, and the timing was convenient to check out the sunset. I was curious to see where on the horizon it was, as we're about 1/3 of the way between fall equinox and winter solstice. From the top of O'Connell bridge, it appeared the sun was setting just north of Vitskari Island. Fall weather being what it is, I suspect the next time I am able to see where the sun sets, it will be south of Vitskari.
Looking the other direction, the highest peaks (above 4500 feet) seem to have had snow persisting, and the crevasses on the ice cap around Peak 5390 are starting to soften. Perhaps this year I'll catch when they cover up.