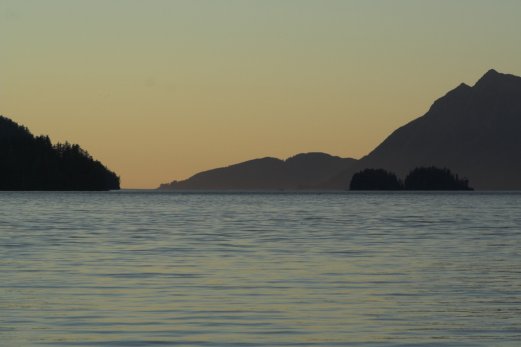 Randy Nutting took Connor and me out on his boat last night. Originally Randy's daughter Ashlyn was going to go also, but she ended up getting sick.
We enjoyed warm sunny skies with calm seas as we headed north late Friday afternoon. We made good time and anchored in St. John Baptist Bay.
If anything, it was even calmer when we woke up with the sun Saturday morning. After a leisurely breakfast, we slowly cruised up to the head of the bay and back out again. Along the way we saw several scoters, a Red-necked Grebe, eagles, gulls, and some other ducks that I was not able to identify as they flew off. We also saw seals, possibly a sea lion, a porpoise, and an otter.
After leaving St. John Baptist Bay, we went over and cruised the length of the north end of Sukoi Inlet. There were many more gulls and eagles as well as a cormorant, but I did not see any other waterfowl. Jellyfish were very abundant in the bay. Some of the jellyfish were pretty amazing, it looked to me like they might be close to two feet in diameter.
With the all the animals we did see, one notable exception was deer. Randy was hoping to find a deer on the beach that he might be able to go ashore to get, but we did not see any the whole trip.
From Sukoi we cruised back through Neva straight and turned into Krestof Sound, went through Port Krestof then through East Channel and into Degroff Bay. At the head of Degroff Bay we got off on the beach and looked around.
While on the beach I was a little surprised at how many birds there were. I saw several sparrows, at least a couple of Song Sparrows, a couple of Savannah Sparrows, and maybe a Linconln's Sparrow or two. There was a Red-breasted Sapsucker, a Winter Wren, and half a dozen or more Bald Eagles that all flew out from the trees near where we went ashore.
The most impressive find of the beach for me was a bumper crop of lingonberries. We did not have much time to spend, but in the few minutes I had, I think I was able to pick close to a pint. With more time, I probably could have picked two or three times that amount. I had previously seen lingonberry plants along the edge of the beach fringe, but this is the first time I have seen such an abundance with berries. It made me wonder if there might be other beaches with similar abundance. If so, it would certainly be easier to gather these berries in quantity (as opposed to trying to find them in the muskegs). Of course there is the added requirement of getting there in a boat.
During the 30 minutes or so we were on the beach, the wind picked up noticably. By the time we got out to Hayward Straight, we were going into a pretty good chop. Randy's boat handles the waves pretty well, so we did not have any problems.
In addition to the bunches of gulls throughout the channel, I also saw a single Marbled Murrelet not too far inside the breakwater.