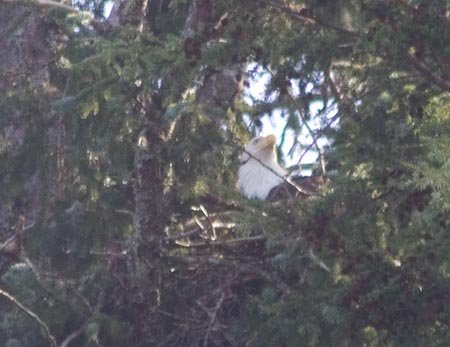 I went on a short walk with Rowan and Kitty to Totem Park this morning to look for the probably Slaty-backed Gull that had been seen yesterday. We didn't get over to the mouth of the river because Rowan became engrossed in looking for shells and I wasn't feeling the motivation to push the issue. Later this evening, the kids and I went over to the airport, John Brown's Beach, and then made a brief stop at Arrowhead Trailer Court to check out the mouth of Indian River.
Weather: It started out clear, but there were high clouds moving in from the south. The sun disappeared behind a layer of clouds around 5pm. Winds were pretty strong out of the south and east.
Birds:
When we arrived at the park, there were several people looking up in a tree. It turned out that a pair of Bald Eagles was working on a nest in a tree not far behind the visitor's center.
Although we didn't get a very good look at the gulls at the park, there were six Canada Geese in the big tidepool at the park.
I didn't see any birds at the airport, though I did not spend long looking.
At Eagle Way cove (aka, the Junkhole), there were quite a few Scaups, Bufflehead, and Goldeneyes, though nothing like what I had heard about being at HPR today.
There were at least six male Northern Pintails at the mouth of Indian River. There were lots of gulls, and I was able to find the Slaty-backed Gull that was reported yesterday.
Other Notes: Rowan seemed to be a little bit obsessed with shells today. She spent the whole time at the park intently looking for shells that she liked. At John Brown's Beach she did the same thing. Connor and Rowan both found several gull feathers along the trail to John Brown's Beach.
There were a couple of dried up gumboot chitons at John Brown's Beach. All that was left was the outer red skin-light part (dried to a tough leather) and the shells. I am guessing they were eaten by a bird of some sort, though I don't know.