Snow fell last night, had it changed to rain by this morning.
Swan Lake remained mostly frozen for much of the day (I went by mid-afternoon), though temperatures rose into upper 30s. Later in the evening temperatures were in the 40s.
It's due to get pretty cold later in the week. I will try and take care of some things tomorrow that need to be taken care of before it gets well below freezing.
I had a call this morning, and this afternoon recorded a conversation for my next radio show with Ian Hewson, a marine microbiologist. He's in town working on a project involving sea cucumbers.
I took a drive to check a couple places out this afternoon. With heavy clouds leading to dim lighting, I did not stay out too long. It was a bit breezy and quite wet.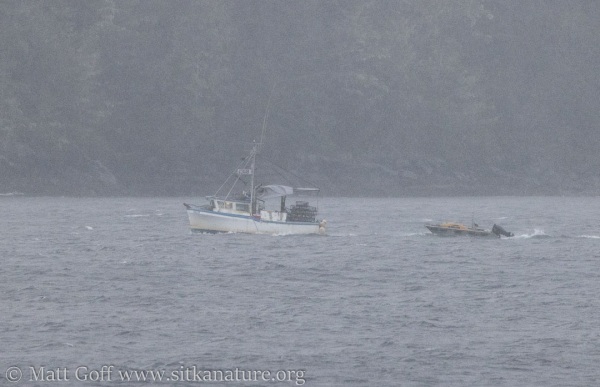 I happened to see the FV Sailor heading back towards town. Though the weather was not altogether pleasant, it was certainly not as rough as when
I saw it heading north last Friday
.
My iNaturalist Observations for Today