Mostly sunny to partly cloudy throughout the day. A bit breezy at times. Temperatures reached the upper 60s.
I made it to bed by 9:30pm last night, but 2:30am still came early.
Heading out for the breeding bird survey, it was already/still light in the north, and at my house I heard a Swainson's Thrush and American Robin singing.
I decided to start a few minutes earlier than the recommended 3:29am, as birds already singing, and it routinely takes longer than the recommended 4-5 hours to complete this route (due primarily to a couple of out and backs that are inefficient, but have been necessary to get the full number of stops in).
Temperatures were in the upper 40s, but a bit a breeze was blowing, especially along Blue Lake road, and I got chilled (lack of sleep probably didn't help) from standing out observing.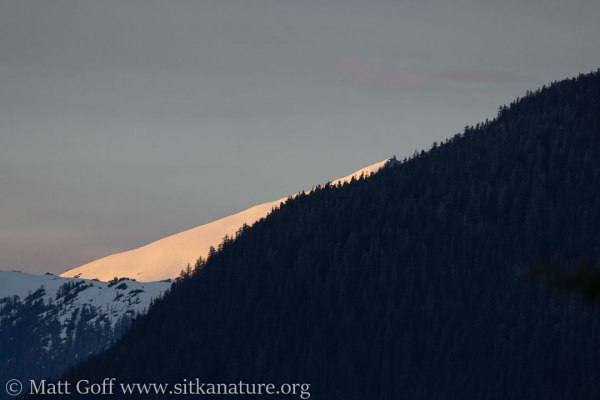 I first noticed sun on the mountains at the Sawmill Creek stop, and the first time in the sun was the small turnout along Silver Bay.
No especially unusual birds noted on today's count, but it was unexpected to see a cat running up along Blue Lake road just below the end. There was also a tent with people inside right beside Blue Lake road next to the metal utility closest to the beginning. It felt a little awkward because that's right where one of the stops for observing is as well (this was around 5am).
Thanks to Kitty LaBounty for logistical support, including arranging permission to get out to Medvejie Lake, driving, and recording the numbers as I called out what I was observing.
Upon getting back home around 9am, it seemed like a good idea to sleep for a bit.
I had some thought of getting out this afternoon for a walk/hike, but ended up visiting with KL and Hank, on the porch at the Beak. It's been a while since Hank was in town, so it was nice to visit in the sun.
I did spend a short amount of time over by the ramp looking at the beach greens to see if there were any leafminers like I had seen at the Chaicheis a few days ago.
This evening was ultimate at Moller field. The wind was still blowing out of the west. I'm not sure if it was a sea breeze, or if there was more to it than that. Temperatures were comfortable, however.
My iNaturalist Observations for Today