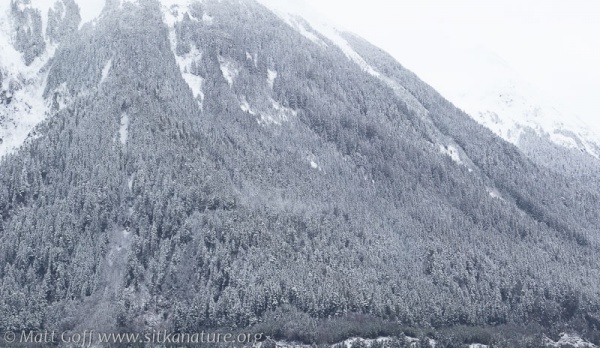 A few inches of snow fell overnight, but it had stopped and was overcast by the time I got up this morning.
I decided to drive out to Silver Bay late this morning and try my luck (again) for Gray-crowned Rosy-Finches.
I ended up going to the end of the pavement, and it took a bit of trying to get turned around just past Sawmill Creek.
I stopped downtown to take pictures of the hills and mountains across Crescent Bay, then decided to go back out towards Silver Bay to get pictures of the mountains there.
Bear Mountain has developed some pretty sizeable cornices.
I continue to appreciate the different textures of the forest brought out by snow on the branches.
This evening it felt a little warmer when I was out, though I didn't check the temperature.