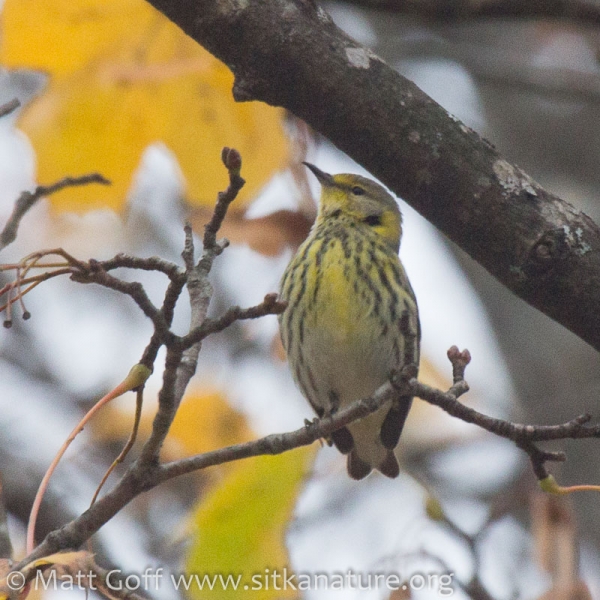 As the calendar changed, so too did our uncharacteristically sunny weather change to a more typical fall pattern. The record breaking dry October (under 5 inches for the month vs. a normal of 13 inches), was replaced by overcast and periods of rain, with a forecast for wind and rain in the coming days.
The last time I had seen the Tropical Kingbird was last Saturday. The only other report I had was from James, a visitor from up north, who found it Sunday, but had no luck refinding it on Monday, despite some effort.
Sunday night into Monday temperatures dipped down to near freezing, so I wondered if the bird had enough of Sitka.
I had arranged to meet with Heather, a SIRF at the Sitka Sound Science Center, and her husband Con mid-afternoon. I decided to take a drive out the road before the meeting to see if I could find the kingbird. After no success, I ended up back in town with 15 minutes to spare before I was supposed to meet them at the Larkspur downtown.
Given my early arrival, I decided to walk over under the bridge to take a picture of the fresh snow that had dusted peaks down to around 3000 feet overnight.
As I walked that way, a Song Sparrow started shweeep-ing at me. Every winter one or two seem to regularly use the thick evergreen shrubs around the small separated parking lot between the Larkspur and the bridge.
A tinking sound tickled my ears – at first it only penetrated the edge of my awareness, as I my attention was split between the Song Sparrow and my objective of walking to take the picture.
As I continued, I began to pause and wonder.
I had the impression it was coming from across the street over by Castle Hill, but there were cars driving by, both near and up on the bridge, so it was difficult to be sure. I almost dismissed it, but ultimately my curiosity got the better of me and I walked over to the parking lot behind the city office building.
Once there, I could hear the tinking a bit more clearly, but now I began to wonder if it was simply a the clinking of metal on one of the flag poles. There was an irregular breeze, moving the leaves a bit, and every so often causing a flag to shift a little. It only took a few moments of observation to realize there was really very little movement of the flags, probably not enough to make the noise, and what movement there was did not correspond with the notes.
At this point I was fairly convinced that I was hearing a bird, and I walked towards the large maple tree on the west slope of Castle Hill, where it sounded like the call was coming from. I noticed a small heavily streaked bird sitting on a branch, which my mind quickly decided was a Pine Siskin, and definitely not the bird I was hearing. Up and behind it, I noticed a warbler flitting about. I was able to get enough of a look at it to recognize it was a Yellow-rumped Warbler, and then started to remember this was a call I had heard before from Yellow-rumped Warblers.
Meanwhile the presumed siskin was still there, and something about it, perhaps the way it flew, caused me to give it a second look. I realized it also was a warbler, but not one I recognized at all.
Given my familiarity with the regularly occurring species in Sitka, I was confident this was an unusual bird. I could not remember the details of the Palm Warbler from over a year ago, but it seemed the closest of the things I had seen before. However, this bird had a distinctive yellow collar, which definitely was.not something I remembered seeing. Upon realizing this, I tried to get the word out to others in town that I know are interested in rare birds.
I had not bothered to carry my better camera with me, so all I had was my super zoom point and shoot. It's handy as a carry-around camera, but doesn't shine with quick moving birds moving through branches looking for food. I would have really been kicking myself (and not for the first time) had I left my better camera at home, but fortunately it was in the car a short distance away. I was torn about leaving the bird (I've had them disappear before), but in the end decided my best chance of getting identifiable documentation was with the other camera.
By the time I was making my dash back to my car, it was nearly time for me to meet Heather and Con. I made a quick stop in the Larkspur where I found they had been there eating lunch prior to meeting me (which it is fortunate that I hadn't realized when I arrived), and I hurriedly and apologetically told them I had arrived, but really needed to go take pictures of a bird before I could join them.
When I got back to the parking lot with my camera, I was relieved to find the mystery warbler was still in the same tree. I started taking pictures, hoping that at least some of them turned out okay in the dim light of a cloudy November afternoon.
Lucy arrived shortly after, and we were both able to watch for a few minutes before she had to go, and I figured I had pushed my time far enough. Neither of us knew what the bird was at this point, but I had gotten a shot I thought might be good enough to identify. I did the cellphone photo of the back of the camera trick, and texted the picture to Brad (one of the Anchorage birders whose contact information I had after his trip here last week to see the Tropical Kingbird), saying I had no book and wondering if he could tell me what it was.
It took a little while for the image to get through, but once it did, Brad let me know it was a Cape May Warbler.
By this time I had made it back to the Larkspur and had started talking with Heather and Con. I felt a little embarrassed about interrupting the conversation, but felt like I should pass on the id to the Sitka birders I had texted previously, at which point I realized that at least one of the folks. was already there looking. Heather and Con were very gracious and encouraged me to go back out to help point out the bird.
When I did not see anyone, I gave Victoria and call and found out that she was on top of Castle Hill – while I was talking to her, I once again saw the bird in the same tree I had seen it to begin with. I saw her and another birder looking around, and let them know I could see the bird.
They were able to find it from their position as well, and within the next few minutes, several others showed up. While we were all there looking, Jen pointed out a Townsend's Warbler (getting to be quite late) – so there were at least three warbler species in the trees there.
At first I had thought there were a couple of Yellow-rumped Warblers with the Cape May Warbler, but now I wonder if there was only one Yellow-rumped Warbler, and the other bird I had been vaguely aware of early on was that Townsend's Warbler. There did seem to be a little bit of interaction between the birds, but I did not really have time to sit and watch for an extended period to get a better sense of what was going on.
After I got home this evening, I sent an email to Steve H in Ketchikan and asked him about prior records of this species in Southeast Alaska. I also did a little research of my own.
I found the range maps showing Cape May Warblers normally expected only as close as the far eastern edge of central British Columbia. I heard from Steve that after a quick look, he only saw a couple of accepted records in Southeast, one from Haines in fall of 1961, and another from Juneau in spring 2011.
There are only a dozen or so reports from the state of this species (so not quite as rare as the Nashville Warbler that showed up around this time back in 2006 – though those have now shown up additional times in the state since then).
My appreciation to Heather and Con for their patience and good humor with my compulsive need to document and share these unusual sightings with others.
When I finally settled in, I did enjoy an interesting conversation about people and place (Heather's research interest) that ranged into other subjects as well.
Just for fun, I created a little map for this post which you should be able to see below the photos at the bottom.
I never did get a picture of the snow on the mountains. Maybe tomorrow.