Banded Dark-eyed Junco with Left leg Red over Black and Right leg Aluminum over White; it's been reported only four times since it was first banded, the most recent before this week was back on 25 March 2013.
Over the past couple of weeks, the number of juncos visiting the bird food in our yard has increased dramatically. Among the returning birds we've started once again seeing birds that have been banded over the past couple of years as part of the Sitka Bird Banding Project. Dark-eyed Juncos have been banded at multiple locations around town and in addition to the typical aluminum band, they've also been given 1-3 additional colored bands that makes it possible tell where and on what day the bird was banded, and in many cases, even track individual birds. If you have feeders or are seeing juncos around, those of us who have been working on this project would really appreciate it if you could take some extra time to check out the legs of the birds you are seeing and report any banded birds. In the case where there are two bands on a leg, it's important to note which color is on top, and it's always important to note whether left or right leg.
I've created a form to enter in observations or you can e-mail or leave a comment on this post if you see any. Thanks!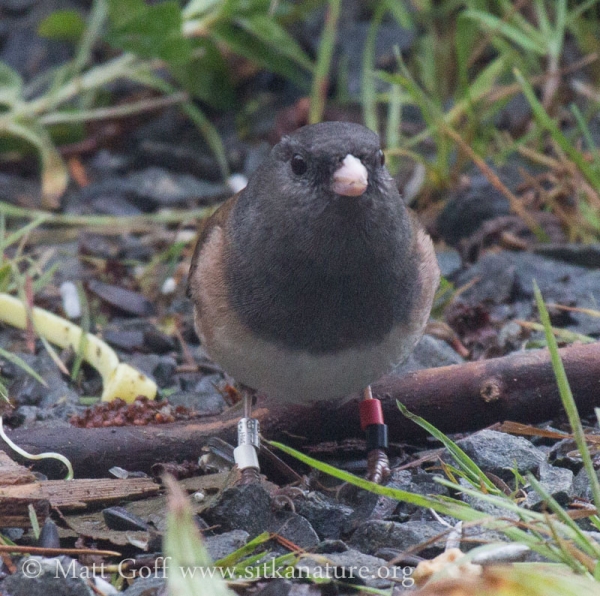 Note that the Left/Right determination is the bird's left and right, so that makes this Left-Red over Black and Right-Aluminum over White