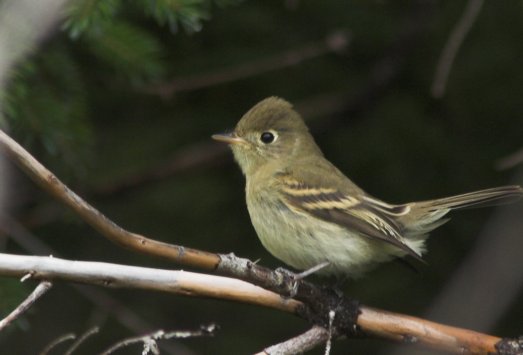 Took a couple of trips down to Totem Park today to take advantage of brighter skies.
Weather: A little bit of light rain and mist today, but there were also some significant spots of blue sky and sun. Winds were light out of the west this afternoon.
Birds: I took advantage of the brighter drier conditions to get some photos of the humming birds that were still feeding in the fireweed.
There was a very loose mixed flock of birds that I noticed moving through the trees along the beach edge of the forest. There were Wilson's Warblers, Townsend's Warblers, at least one flycatcher, at least one Ruby-crowned Kinglet, Chestnut-backed Chickadees, and Golden-crowned Kinglets.
There were several warblers that spent some time in the fireweed while I was watching the hummingbirds. I got a good look at Orange-crowned Warblers, a Wilson's Warbler or two, and possibly a Yellow Warbler.
The shorebirds have practically disappeared. I counted maybe 5 Least Sandpipers, 1 Greater Yellowlegs, and 1 Spotted Sandpiper. I did not look over by the river, so there may have been another shorebird or two over there. However, the tide was up, so I don't think there was too much over that way.
Other Notes: A lot of mushrooms are coming up in the park.
An interesting looking moth flew up while I was sitting on the beach holding out some hope for shorebirds. I got some photos of it (I'll probably post some later). When I showed Rowan the pictures and asked her she knew what it was, she thought it looked like bird poop. If that's what is trying to imitate, it could do better, but I thought it was interesting that she came up with bird poop.