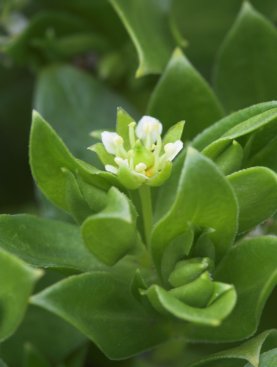 Rowan and I went for a good walk through Totem Park today. Plants are definitely progressing on toward summer.
Weather: The day started sunny, but by noon it was overcast with the clouds moving up out of the south. In the evening there was some partial clearing. Temperatures were in the 60s, so it felt pleasantly warm. There was a good breeze out of the south while we were at the park.
Birds: While in the park we heard a woodpecker. I still don't have the call notes solid, so I am not sure which species.
There was a flock of seven large birds flying over campus this evening. I am pretty sure they were Great Blue Herons, but someone else said they were sandhill cranes.
Flora: The purple sweet-cicely are nearing the end of their blooming in the park. Stream violets are still going strong. Rosy and clasping Twisted Stalk are getting ready to bloom. Beach greens and Siberian miner's lettuce are blooming in the estuary. There are mustards blooming in various locations. Rowan noticed a slime mold growing on the end of a log near the trail as we walked through the park.
Other Notes: We found some deer tracks in the sand at the upper end of the estuary. I had Rowan try to follow them, but she tended to go back and 'discover' prints that were from where the deer came rather than where it was going.
Rowan also spotted a number of the flowers we saw today. She liked to point them out and ask me if I was going to take a picture.
At one point while I was trying to observe a Swainson's Thrush, Rowan found a side trail and asked if we could take it. It was not much of a trail, but she did a good job following it through the brush.