In my first ever attempt at hosting a blog carnival, I will try to put together a worthy follow-up to Foothills Fancies April 2011 edition.
As an aspiring naturalist wanting to learn his place I have chosen to focus on a very narrow geographic realm (though I have to admit, it's not quite so narrow as the Square-meter guy!). When I visit other places, I tend to relate what I see there to what I'm familiar with at home. I thought this might be an interesting approach for a blog carnival. Accordingly, I've included a picture from my home area with a brief paragraph about each submission. For posts featuring a particular species, I decided to look into the closest familiar relatives.
Reading the Dipper Ranch account of a San Francisco area Wildflower Hotspot, the Edgewood Park and Natural Preserve, I'm reminded me of abundant summer flowers in subalpine meadows. The picture is of Harbor Mountain Trail along a section where it crosses a large meadow – at the right time of year it's possible to find a dozen or more species of wildflowers blooming right along the trail. Probably not especially diverse by many standards, but we can't be too choosy at these northern latitudes!
JSK's descriptions and photos Mid-April Wildflowers at the Rock and Shoals Outcrop Natural Area reminds me of a recent trip I made to Sealion Cove (pictured). Like JSK, I also found many Moonworts (Botrychium spp.), though a different species than JSK's B. virginianum.
Emily of Adventures in Fern Biology was excited to find Spring's first fiddleheads in the form of new growing Interrupted Fern (Osmunda claytoniana). I was a little surprised that I had to go all the way back to class (or thereabouts – I'm not up on all the taxonomic consensus on such things) before pulling in some relatives I recognized. From these, I picked a photo of a Polystichum and Athyrium fiddleheads – both common species here.
Yes, we do have bananas! features an otherwise hard to view (outside the UK) video clip of a report on bananas and Fusarium wilt – a threat to their production. Unlike the ferns, I was not surprised to find no close relatives of bananas, but did enjoy the trip through the tree of life to discover that the closest familiar relatives were grasses and sedges, which group with some other things in Commelinanae which then clusters with Zingiberanae (including bananas and friends) before joining with other monocot groups.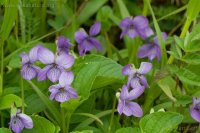 I had never heard of the fascinating (and effective) hidden-flower-trick before reading Kate's account of finding Viola sororia's hidden flowers. This makes me wonder if the violets I know from closer to home (like the V. langsdorffii pictured) engage in the same sort of behavior…
Sally's fascinating Botanical ramble started with an apple got into names Gillyflowers (aka Carnations), a member of the Caryophyllaceae. Family was as close as I could get, and thinking about lovely pink carnations, I was reminded of Moss Campion (Silene acualis), the showiest relative I know locally.
At the Agricultural Biodiversity we learn from Luigi about some of the challenges faced by the Kibale Forest Wild Coffee Project. The plant of primary focus, Coffea canephora is used to make coffee. Though I don't have much taste for the drink and am unlikely to try verifying this, I have heard that seeds from Cleavers (Galium aparine), a local relative (in the Rubiaceae family), can be used a substitute.
Back to JSK's nature walk, we get a closer look at Mayapple (Podophyllum peltatum), whose closest local relatives are the buttercups (Ranunculaceae clusters with Berberidaceae in Ranunculales) and…
Catesby's Trillium (Trillium catesbaei) with a relatively close cousin Corn Lily (Veratrum viride). In this case, I was interested to find there is apparently some disagreement on how/whether organize things, some people apparently put Veratrum and Trillium in Melanthiaceae, while others use Trilliaceae or Liliaceae.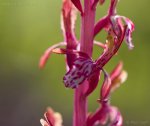 At Beetles in the Bush, Ted shares his passion for Missouri orchids, with special attention to a particularSpring Coralroot Orchid. I was immediately reminded of a cousin that is common in these parts who shares a similar taste in fashion, Mertens' Coralroot (Corallorhiza mertensiana).
Willow House Chronicles provides some insight to the live of her local Pussytoes (Antennaria neglecta). I was impressed by what appeared to be fields of pussytoes growing -as the pussytoes I've had the chance to make an acquaintance with here have been sparsely scattered at high elevations.
Finally we get to the only species featured that actually occurs in my home region (though I'm not aware of having seen it specifically). Even better, The Phytophactor provides a link and synopsis to a paper discussing how all Sphagnum subnitens in North America are the same genetically – so from a genetic perspective, the S. subnitens discussed in the post and paper is the same as any that occur here.
Thanks to all the writers and submitters of these blog posts, and thanks also to the readers. I enjoyed the opportunity to get a reminder of how my chosen place informs me about others, and vice versa. I hope you all are inspired to further explore and/or gain a greater appreciation for what they have in their own back yard by reading the accounts by these passionate naturalists who are exploring and sharing discoveries of their places. Please share what you're finding by submitting posts for Berry-go-Round #41 at Plants are the Strangest People. Submissions can be made via the Berry-go-Round submission form.
Thanks again!